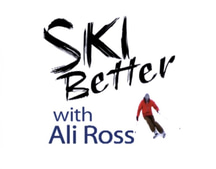 Problems don't develop along the way of our skiing journey - they already existed at the beginning of our skiing development. They only manifest themselves, as a problem in more difficult situations, and higher speeds, so conceptually we must go back to the beginning to cure our problems.
The Alps then beckoned the young Ross and he joined the Swiss Ski School in Wengen - a first for a foreigner - where he was to remain for twelve years, during which time he also trained racers both in Switzerland and in France. Then by a twist of fate he met three Sunday Times journalists, Harry Evans, Brian Jackman and Mark Ottaway, who were keen, but sceptical, intermediate skiers and who were about to write a book on learning to ski. In the words of Brian Jackman, " Ali became the guiding light behind the best-selling book, "We Learned To Ski", and in the early 1980's, the Channel 4 TV series. Ali with Moira Ross, then founded Ali Ross Skiing Clinics as the first teaching system to be independent of national ski schools' orthodoxy. Over many years, with books, videos and his ski courses based in Tignes, Ali Ross has carved a unique place in the world of ski teaching.
These achievements have been recognised by several awards over the years - the Pery Medal by the Ski Club of Great Britain, to name just one - but the ultimate accolade was received in the 2020 Honours List when Ali was awarded the MBE for "services to skiing" More ...