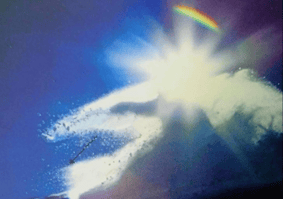 All ski courses, both group and private, are taught exclusively by Ali Ross.
The group courses offer a training programme, progressing from Level I, our introductory ski course, through Level 2 to the Advanced courses. For newcomers, it is not an absolute rule that you must do Level 1 first and if you make a convincing case, we do consider requests to join directly at Level 2 or (more rarely) Advanced .
This applies particularly if you already have the DVD and want to try the real experience on snow. Please contact us for advice if you would like to discuss your skiing level further as it is important for you - as it for us - that our expectations are matched.
All group courses have a maximum of eight skiers. Linking all of this is the unique advantage of our ski courses - they are all taught by Ali himself, guaranteeing consistency of information and feedback.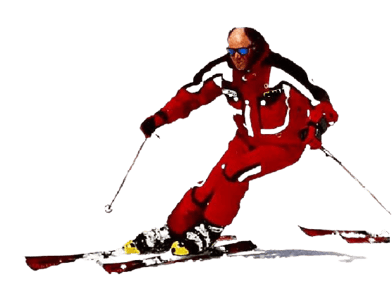 For intermediate to advanced recreational skiers with several years' experience and generally for those joining our ski courses for the first time (however, see the comment above). This course introduces the fundamental techniques of the Skiing Clinics along with the exercises and activities to put these into practice.
The MINIMUM technical standard is firstly to have skiing skills to at least an intermediate level , i.e. to be able to use open parallels on a red run in the Tignes/Val d'Isere area. We take this seriously, for everyone's sake, so please do ask if you are at all uncertain.
The second requirement is to be open to new ideas and to be prepared to change ingrained habits. This is probably the more difficult part.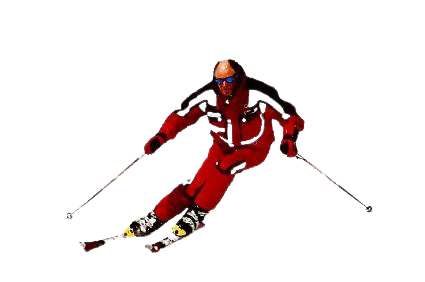 There is an overlap between the ski courses at different stages, so that Level 2 aims to develop techniques learned at Level 1 and to apply them to a variety of skiing situations, whilst also building up mileage on skis using the techniques. We may introduce off-piste skiing, if conditions allow and Ali feels that the group would benefit from the experience.
Generally, you will have already attended a Clinic recently, at Level 1 or 2. The aim is of this ski course is give another option to those who feel they are between level 2 and Advanced and who want more practice in the Clinics' techniques with those in a similar position.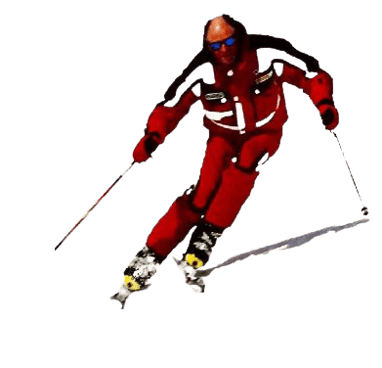 The aim for our Advanced skiers is to refine further the technique followed in earlier ski courses for more difficult terrain and conditions, including the development of mountain awareness. Off-piste skiing when safely possible, but please remember Advanced Clinics are not intended to be exclusively, or even mostly, off piste. The decision is taken by Ali, with due regard for all the factors involved, and with advice from the piste patrol. We provide transceivers for those who do not have their own and training is given in their use. (There is a pictorial of a day out with a group of our more experienced Advanced skiers -see 'Images' - to give you an insight into the workings of one of the ski courses at this level, albeit after several seasons' training).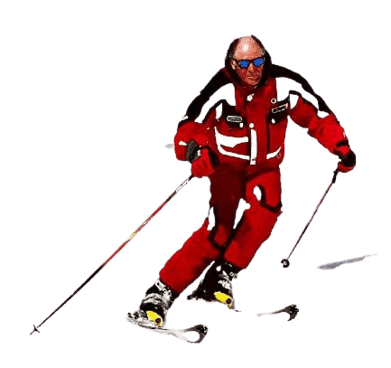 Combined Level 2 and Advanced ski course, running in early December. Great for remembering what you should be doing for the rest of the season. Many regular clients also book private lessons with us to serve as refreshers and these are available after the Season Refresher course up to New Year and throughout the season on Saturdays.
Personal Performance Clinic (PPC)
Increasingly popular as a prelude to any of the mainstream courses, a PPC offers private ski lessons, half days, four skiers maximum. Excellent for personalised analysis/reminders if you are a current client or to introduce you to our system if you are a newcomer. The Christmas period up to New Year is available daily for PPCs and Saturday mornings throughout the season. For more information, prices and booking, please contact us directly.
This may change depending on Covid-19 restrictions on meetings in the resort. We will let you know.
The meeting gives everyone the opportunity to meet the other members of the group, find out about how the ski courses work, where we meet and so on.
If you are going to be late, please let us know by TEXT on 0044 (0)788 0551360.
Buy an area Tignes/Val d'Isere lift pass. You can book online at www.skipass-tignes.com. Also, some hotels can arrange them for you on request, best to request in advance.
Or buy one from the STGM office in person on arrival; it is situated in the Maison de Tignes in le Lac in the main square.
Ski Hire and other equipment
We use Sport 2000, on Rue de La Poste in Tignes le Lac. Telephone Sport 2000 (+33 4 7906 3404). They know Ali's recommendations regarding skis and boots. We are now using Volkl equipment, and Sport 2000 are familiar with the latest models. Most of the staff speak fluent English. Please contact them directly as we cannot forward requests on your behalf.
Email: guy.clarey@wanadoo.fr. Mention you are skiing with Ali Ross.
Click here for Full Ski Course Booking Conditions
Also, please see our Privacy Policy here.
It is a requirement of booking a course with Ali Ross Skiing Clinics that you agree to the Booking Conditions and accept our Privacy Policy. Please see the relevant sections of the Booking Form.
For those who aren't familiar with the Skiing Clinics programme from previous years, the schedule generally follows the same pattern every season, with minor changes to accommodate specific group requests. This means the season opens in December with the Premiere Neige Refresher weeks, followed by Personal Performance Clinics over Christmas and New Year, which continue throughout the season on Saturdays and for the first time this season, during the February half term holidays. The main group ski courses are available weekly after New Year, though Level 1 weeks are mostly concentrated in January. The finale in early April is called the Derniere Neige, during which we hope to find the idyllic "spring snow" which can transform skiing conditions at this time of the year.
We hope you find a course to suit you and look forward to seeing you in 2021/22.
December 2021
6- 10 Season Refresher
13-17 Season Refresher
18-25 PPC see note *
27-31 PPC see note *
January 2022
3-7 Level 1
10-14 Level 1
17-21 Level 2
24-28 Advanced
February 2022
31/01- 4/02 Advanced
7-11 Level 2
14-18 Level 1
21-25 Level 2
28/02- 4/03 Advanced
March 2022
7-11 Advanced
14-18 Advanced
21-25 Level 2/Advanced
28- 01/04 Dernière Neige
*Personal Performance lessons held between Christmas and New Year can also be arranged as a week's Level 1 course if there is a group (four or more skiers) interested. These PPCs also run throughout the season on Saturdays from January.
Ski course place availability is updated regularly on our NEWS page or please enquire by email or text/phone. Note the new contact details .
The courses take place over five half days, from Monday to Friday, extending from 09.00/09.30 (depending on conditions) to early afternoon, around 13.00-13.30.

The fee for all group ski courses is £450. Deposit of £100 per person is required within 7 days
Electronic transfer of payment please. Balances must be paid 8 weeks before the start of the course.