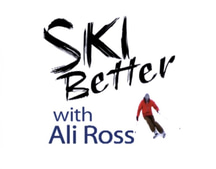 We welcome your views on the ski course you have attended - please email including the year and level of the Clinic. Thank you.
"If you haven't been with Ali before, you will have to rethink your ideas about the way you ski now. A lot of unlearning and a bit of a challenge to your skiing habits, which some people find uncomfortable. If you are serious about improving, though, this is for you. For me, this is just the start. Next, the Advanced course, which I was recommended as the next stage to do!"
Tim S.
Level 2 2020
"At 57 years old I was firmly stuck in the intermediate rut. On steep icy reds I got down them but sliding 20ft on each turn. Off-piste my control was sadly lacking and there were too many crashes. Then I started with Ali and in the 9 years since he has transformed me into someone who carves on piste, even on La Face, and has good control and only rarely falls off-piste. Not only that but the Ali group are a really great crowd and it all makes for a great holiday. I cannot recommend Ali enough and if he can do it for me he can do it for anybody!!! "
Mike I.
Advanced course 2022
"What to say about Ali! One word comes to mind: transformative. Truly transformative. Before the course, I didn't wholly think that it would be possible to develop my skiing as much as people say Ali can. But after one session with him, I knew those doubts were wrong. Through engaging and logical instruction I am skiing better than I ever have done and it feels fantastic, effortless even. It's also fun. Thank you, Ali, I'll be back."
Jill P.
PPC 2019
"Really enjoyed the way Ali taught. We've been to various ski school in the past and it was always the same - instructions, but no progress. But this course took us to a whole new level of understanding skiing. Small group of people who wanted to learn new ideas. Thanks!"
Angela W
Level 1 2019
"This (Level 1) was my first course, after a private lesson with Ali and watching the DVD. These were great for preparing you for the 5 day course so you know what to expect. And there is no substitute for the feedback which you get from Ali, which only the lessons on snow provide. Now all I have to do is practise, practise, practise - and then come back for more."
Ally PW
"The main feature about this course is helping us intermediates overcome the blockage to progressing further. Ali calls it the plateau. Everything finally clicked. It needed effort to rethink my skiing, but I know the way forward. Nice atmosphere in the group too."
Paul C.
Level 2. 2020